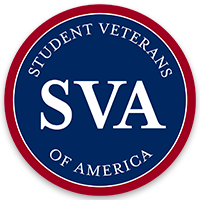 Most Americans are now feeling the effects of COVID-19, but not many are aware of how this crisis is changing a hard-earned moment of recognition and celebration for our nation's veterans, as college graduations across the country have been canceled.
Student Veterans of America (SVA) will be streaming a graduation ceremony for the hundred thousand veterans graduating this year, as well as their families and friends.
Join us on June 12 at 6 p.m. ET on Facebook and the Xfinity X1 Education Channel.
days
hours
minutes
seconds
days
hours
minutes
seconds
Student veterans have delayed their goals in higher education and career in order to first serve all Americans.
Student veterans tend to enter college later, frequently juggling part- or full-time jobs and families in addition to a full class load.
Student veterans graduate with .40 higher average GPAs than their civilian counterparts.
Women student veterans make up more than half of SVA chapter leaders nationwide.
Nearly two-thirds of student veterans are first generation graduates.
WHO ARE STUDENT VETERANS?
Deshauna Barber, CEO of Service Women's Action Network
Shoshana Bean, singer & songwriter
Margarita Devlin, VA Principal Deputy Under Secretary
Jason Everman, musician and U.S. Army veteran
Melissa Fumero, actress
Luis Guzmán, actor
Tony Hale, actor
Roy Azevedo, President of Raytheon Intelligence & Space
Lester Holt, NBC News Anchor
Jamie Gray Hyder, actress
Mike Love, singer-songwriter
Jared Lyon, SVA National President & CEO
MAJOR., GRAMMY-Nominated singer-songwriter
Colin Mochrie, actor
Kevin Pollak, actor
Donnell Rawlings, comedian
Simon Sinek, best selling author
Sebastian Stan, actor
Fontaine Stegall, SVA Board Member
Bassem Youssef, comedian, writer, & surgeon
Alan Zweibel, screenwriter
The deadline to be recognized in Home with the Brave has passed, but you can still submit your information below.
• Receive an Invitation to Join SVA's LinkedIn Group
• Stay in Touch with Alumni Updates from SVA
Home with the Brave was made possible by generous support from: